Phonics scheme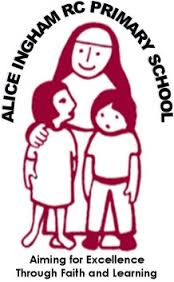 Here at Alice Ingham RC Primary School, we take great pride in ensuring all our children are taught how to read to the best of their ability. Here is a run-down of how phonics it taught at each stage. You can use this to practise with your child/ren at home.
Reading every night can rapidly improve your child/rens reading skills, helping them to become more fluent and confident readers.
What is phonics?
There has been a huge shift in the past few year in how we teach reading in UK schools. This is having a big impact and helping many children learn to read and spell. Phonics is recommended as the first strategy that children should be taught in helping them learn to read. It runs alongside other teaching methods such as Guided Reading and Shared Reading to help children develop all the other vital reading skills and hopefully give them a real love of reading.
Words are made up from small units of sound called phonemes. Phonics teaches children to be able to listen carefully and identify the phonemes that make up each word. This helps children to learn to read words and to spell words
In our phonics lessons children are taught three main things:
GPCs
They are taught GPCs. This stands for grapheme phoneme correspondences. This simply means that they are taught all the phonemes in the English language and ways of writing them down. These sounds are taught in a particular order. The first sounds to be taught are s, a, t, p.
Blending
Children are taught to be able to blend. This is when children say the sounds that make up a word and are able to merge the sounds together until they can hear what the word is. This skill is vital in learning to read.
Segmenting
Children are also taught to segment. This is the opposite of blending. Children are able to say a word and then break it up into the phonemes that make it up. This skill is vital in being able to spell words.
At Alice Ingham we follow the DfE published scheme, Letters and Sounds.
For more information about this scheme, please click here.
Check out the links at the bottom of the page for some fantastic online games to help practise with phonics!
Phase 2
In Phase 2, children begin to learn the sounds that letters make (phonemes). There are 44 sounds in all. Some are made with two letters, but in Phase 2, children focus on learning the 19 most common single letter sounds. These are broken down into smaller sets of about six sounds to make them more achievable for children to learn.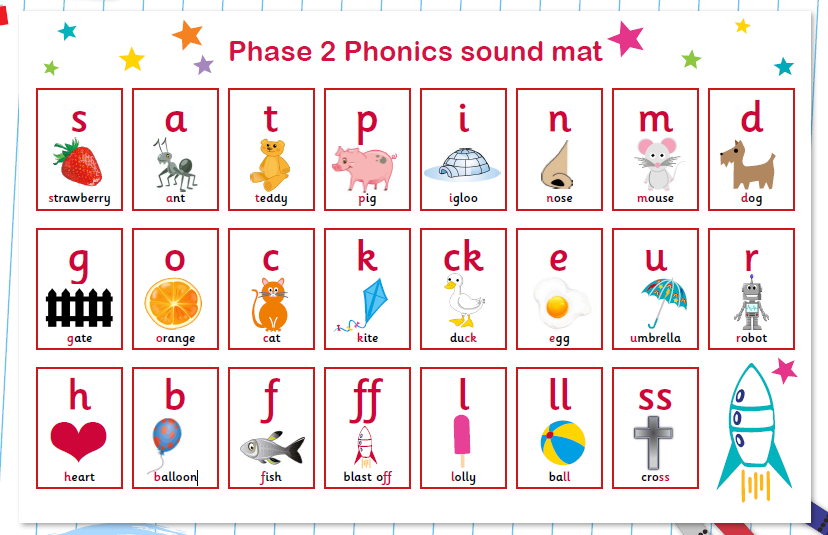 Phase 3
Phase 3 introduces children to the remaining, more difficult and/or less commonly used phonemes. There are around 25 of these, depending on which scheme is followed, mainly made up of two letters such as /ch/, /ar/, /ow/ and /ee/. We need these sounds to be able to read and form useful words.
Alongside this, children are taught to recognise more tricky words, including 'me,' 'was,' 'my,' 'you' and 'they'. They learn the names of the letters, as well as the sounds they make. Activities might include learning mnemonics (memory aids) for tricky words, practising writing letters on mini whiteboards, using word cards and singing songs like the Alphabet Song.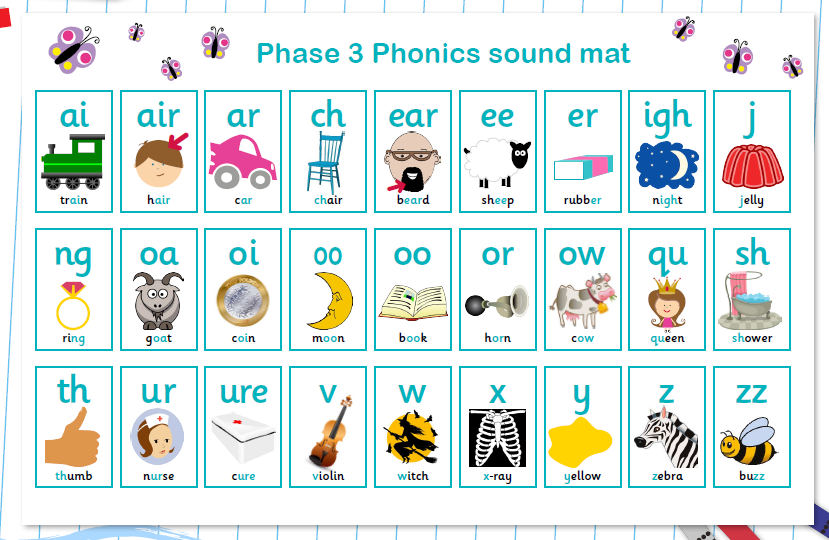 Phase 4
By now, children should be confident with each phoneme. From here on, phonics teaching is about consolidating and refining their knowledge, introducing more spelling patterns and tricky words, and increasing vocabulary.
In Phase 4 phonics, children will, among other things:
Practise reading and spelling CVCC words ('such,' 'belt,' 'milk' etc)
Practise reading and spelling high frequency words
Practise reading and writing sentences
Learn more tricky words, including 'have,' 'like,' 'some,' 'little'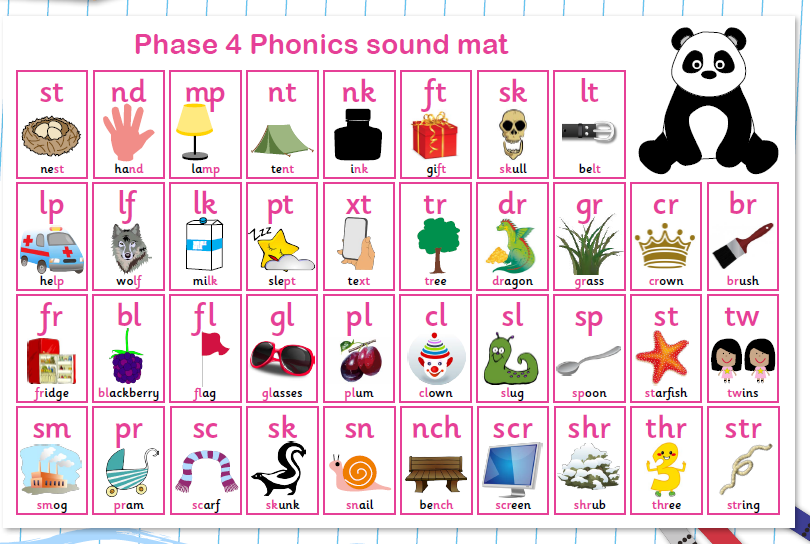 Phase 5
Here, we start introducing alternative spellings for sounds, like 'igh'. 'Children master these in reading first, and as their fluency develops, we begin to see them using them correctly in spelling.
Children learn new graphemes (different ways of spelling each sound) and alternative pronunciations for these: for example, learning that the grapheme 'ow' makes a different sound in 'snow' and 'cow'.
They should become quicker at blending, and start to do it silently.
Children learn about split digraphs (the 'magic e') such as the a-e in 'name.'
They'll start to choose the right graphemes when spelling, and will learn more tricky words, including 'people,' 'water' and 'friend'. They also learn one new phoneme: /zh/, as in 'treasure.'
By the end of phase 5, children should be able to:
Say the sound for any grapheme they are shown
Write the common graphemes for any given sound (e.g. 'e,' 'ee,' 'ie,' 'ea')
Use their phonics knowledge to read and spell unfamiliar words of up to three

syllables

Read all of the 100 high frequency words, and be able to spell most of them
Form letters correctly